Trenchless Sewer Repairs & Replacement in La Habra CA
Trenchless Sewer Line Services
Elite Plumbing & Hydro-Jetting is a full-service plumbing company that offers commercial, industrial, and residential trenchless sewer line replacement. Since 2002, we have been committed to providing professional and honest plumbing services to clients of all sizes. When you need trenchless sewer repair, trenchless pipe repair, or trenchless pipe replacement in La Habra and the surrounding area, look no further than Elite Plumbing & Hydro-Jetting.
Call us today at (855) 203-7074 for trenchless sewer replacement in La Habra, California.
Advantages of No-Dig Trenchless Sewer Repair
For both small residential sewer repairs and larger commercial sewer repairs, no-dig trenchless pipe replacement is a less disruptive and more cost-efficient solution than traditional open-cut excavation methods. Rather than digging a trench to access a whole section of your sewer line, we just need one entry point and one exit point to get the job done.
One main advantage of trenchless pipe repair is that there is no need to dig up large chunks of the lawn or landscape that you've worked so hard to maintain over the years. Another advantage of trenchless pipe repair is that it avoids damaging concrete work such as driveways, patios, or walkways. This means there is no need for additional expensive repairs after we fix your sewer lines.
We also like this service because it's less labor-intensive for us! Since we don't have to dig any major trenches, we don't need a lot of manpower or time to make the necessary repairs. This makes repairs is simpler to carry out than more traditional methods, which makes it more cost-effective for everyone.
How Does Trenchless Sewer Repair and Replacement Work?
Repairs begins with an inspection of your sewers using a special remote sewer inspection camera. The flexible camera is snaked into the sewer lines through a drain in your home and will give us an idea of how long the sewer line is and how extensive any damage is. We can then come up with the most efficient, least invasive way to access the sewer and perform the necessary repairs.
After the initial inspection, the sewer line then needs to be thoroughly flushed out. We will do this by accessing the line at its lowest point, hydro-jetting it, and using a mechanical plumbing snake to clear it out. Once the pipes have been cleared, we can fix the damage using one of several trenchless pipe repair and trenchless pipe replacement techniques.
CIPP Lining
CIPP stands for "cured in place piping" and is one of the advanced replacement techniques we can use. A flexible CIPP lining is inserted into the damaged sewer line and then cured in place using hot water, steam, or even UV light. This technique is great for fixing all kinds of cracks and leaks in both sewer lines and sewer mains of all shapes and sizes.
Slip Lining
Slip lining is an older form of trenchless pipe replacement that basically works by putting a new sewer pipe of a small diameter inside of the damaged pipe to act as a liner. A slip line pipe, usually made of HDPE or PE plastic, is threaded through the existing sewer line by pushing and pulling it, either in one piece or in several smaller sections. It is then grouted into place.
Pipe Bursting
The pipe bursting technique is a trenchless pipe replacement technique that is mainly used for sewer lines that are beyond repair. A cable with a bursting head is strung through the damaged pipe and a new section of piping is attached behind the bursting head. The bursting head then moves through the damaged section of the sewer line, breaking it apart as it goes and pulling the new pipe into place behind it.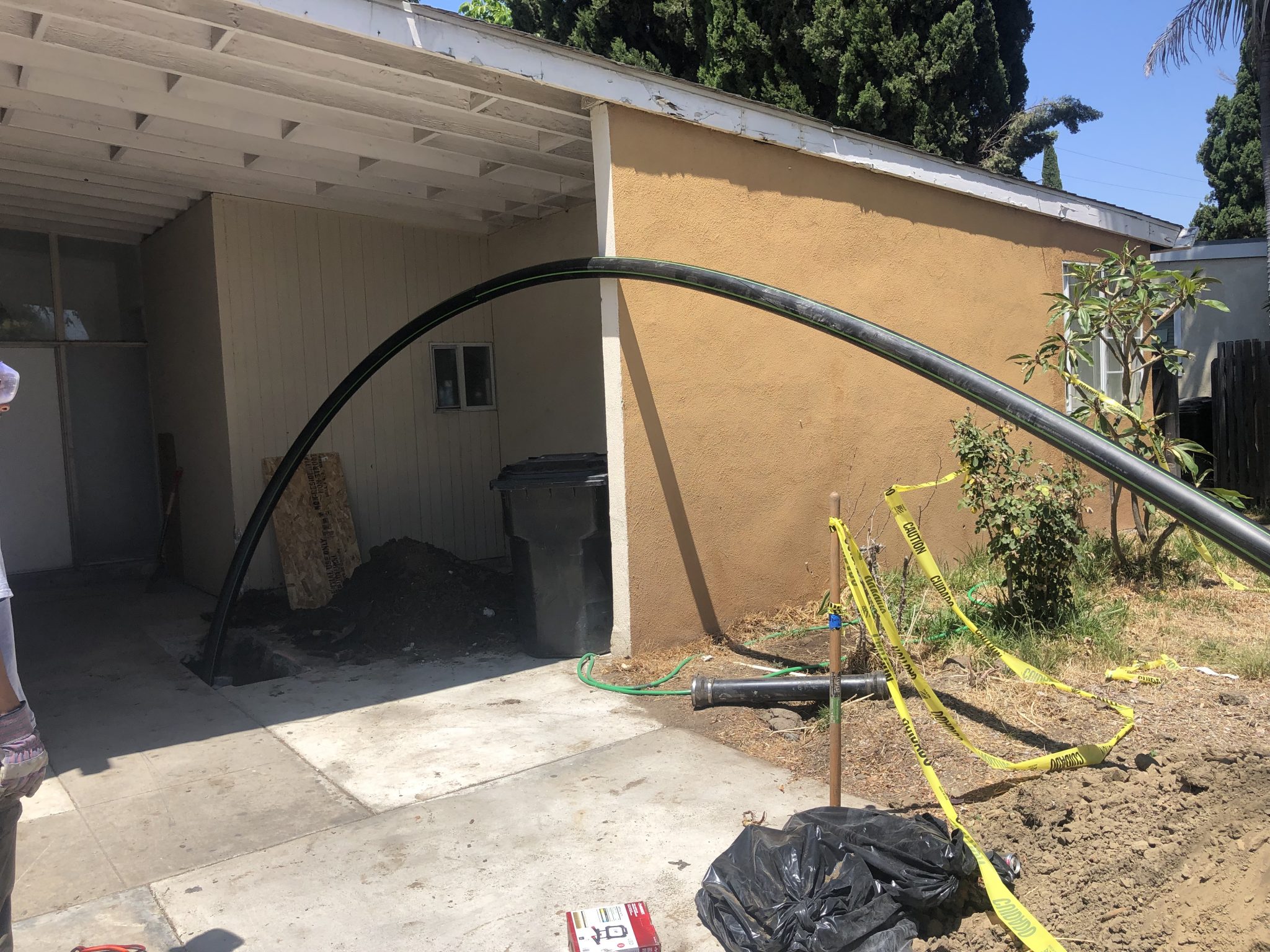 Experienced La Habra CA Trenchless Sewer Replacement Contractors
With more than 17 years of experience, Elite Plumbing & Hydro-Jetting is the local sewer repair company that you can trust. Customer satisfaction is our priority and we will work closely with you to ensure that we provide the best services we can. In addition to trenchless sewer repair and trenchless pipe replacement procedures, we offer a full range of other plumbing services. Count on us to get your home or business plumbing systems running smoothly again.
Call your repair contractor in La Habra, CA at (855) 203-7074 now for more information or to schedule an appointment.
Frequently Asked Questions
If you have any questions about any of these measure, don't hesitate to call us so we can help you prevent further issues
Reliable Choice for Your Trenchless Sewer Replacement
With more than 17 years of experience, Elite Plumbing & Hydro-Jetting is the local sewer repair company that you can trust.
Call your sewer repair contractor in La Habra, CA at (855) 203-7074 now for more information or to schedule an appointment.